What is a Network Matrix Video Surveillance?
This is a brand new system by using exclusive network video technology exclusively developed for the clients who need extensive multiple video channels monitoring and surveillance simultaneously. For this purpose, we have developed an unique equipment, called VMU (*Video Management Unit).
From small store owners up to corporate-level control center for video surveillance, this network matrix video surveillance system will enhance your security task to the next level. A single VMU equipment enables you to connect multiple DVRs and to monitor multiple video channels up to 1024 channels.
→ VIEW OR DOWNLOAD VMU-200 SPEC SHEET
How is it possible to have Network Matrix Video Surveillance up to 4096 channels?
For the network matrix video surveillance more than 1024 channels, we have developed a unique client software, called VMC (*Virtual Matrix Controller). This VMC client software enables you to control multiple VMU equipment up to 16 units and to monitor numerous video channels up to 4096 channels.
→ SEE VMC CONCEPT DIAGRAM & CLIENT SOFTWARE  
What if my DVRs on the field go inactive?
How do you instantly figure out if your DVR on the field faces problems like non-recording (due to many reasons), video loss, motion, or sensor event? For client's convenience, we have developed the DVR Health Monitoring equipment, called DHS (*DVR Health Server). This DHS equipment lets you monitor remote DVRs up to 60 units. Also we provide smart phone push notification app for various alarm events.
→ VIEW OR DOWNLOAD DHS SPEC SHEET
Can you show me your actual Network Matrix Video Surveillance system installed at the client?
Sure, you can see the below picture under real operation.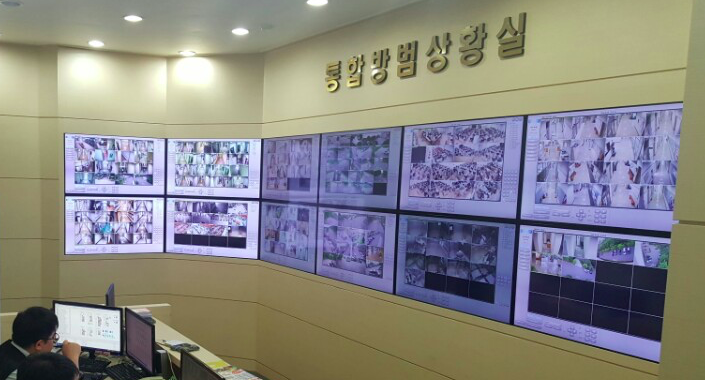 Still not sure about Network Matrix Video Surveillance system?
You're most welcome to contact us for various inquiries!